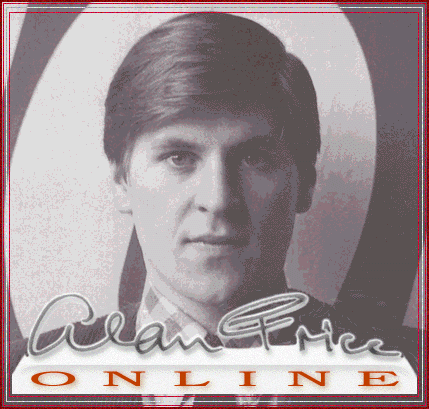 Alan Price, the quintessential British singer/songwriter of the 20th century, has enjoyed a most celebrated career in music, film and the theatre, which has spanned over 40 years. This website is dedicated to his life and work.

Alan began his world class musical career in the early Sixties, as the arranger and keyboardist for the legendary British rock group, The Animals. In 1965, he formed the Alan Price Set, with whom he recorded a string of chart topping hits. In the late Sixties, he embarked on a distinguished solo career. Alan continues to write and record his unique brand of music, and he performs regularly throughout Europe.


O LUCKY MAN! DVD FINALLY RELEASED
MORE INFO HERE

To contribute content to this website, please email the webmaster

Home | Tour Diary | Alan Price Biography | Alan Price Discography | Alan Price Filmography | Archive | Photos | Features
Latest News | History | More... | News | Store | Links | Guestbook | Contact Webmaster | Email | Sitemap


VISIT OUR OTHER LONG-ESTABLISHED WEBSITES:
Absolute Elsewhere: The Spirit of John Lennon
Waiting for the Sun: The Spirit of Jim Morrison
The Georgie Fame Website
Zachary Richard: American Singer-Songwriter
Dr. John: The Unofficial Website
Legends of Jazz
American Roots Music
Spirit-Guide.net
Fashion Dolls Unlimited (Coming Soon!)

This Website Was Designed by WebWorks Unlimited
Design and all original graphics on this website Copyright © 2004 – 2008 WebWorks Unlimited

This website is not directly associated with Alan Price or anyone officially representing him.
It has been developed for entertainment purposes only.